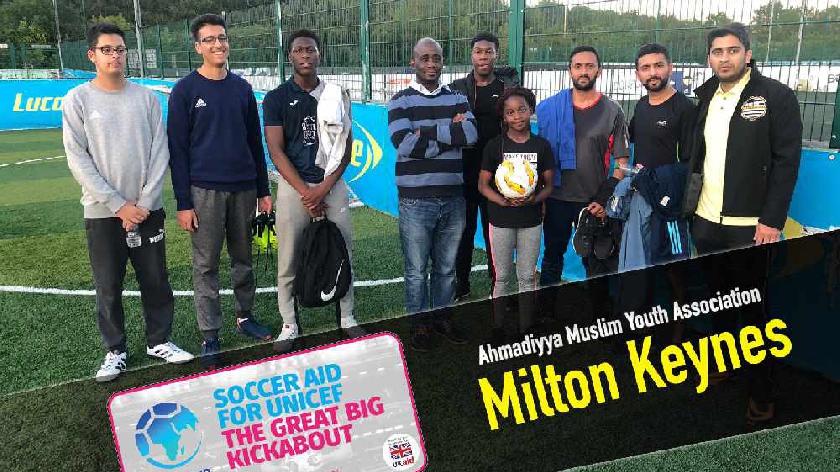 On 15th June 2019, the Ahmadiyya Muslim Youth Association from Milton Keynes organised the 'Football4Peace' event in partnership with UNICEF SoccerAid as part of UNICEF's 'The Great Big Kickabout' campaign.
AMYA youths nationwide have achieved their target of £30,000 which will be matched by the Government.
Asked why AMYA does this, the Local Youth leader for AMYA from Milton Keynes, Saeed Nazir said: "This is part and parcel of our faith, whether it's feeding the homeless, planting trees or raising money for British charities, this is our duty as taught to us by the Holy Prophet Muhammad, peace be upon him, that 'loyalty to one's country is part of faith'.
'Mercy4Mankind' is AMYA's annual charity campaign consisting of multiple events such as Football4Peace. This annual campaign has been named after the founder of Islam, Prophet Muhammad (peace be upon him) who was referred in the Holy Quran as the 'Mercy for Mankind' for the whole world. AMYA, Britain's largest Muslim youth organisation, have raised millions of pounds for charities, donated thousands of kilograms of food and clothes, planted hundreds of thousands of trees and made blood donations across the UK, by following the example of the Holy Prophet Muhammad (peace be upon him)!
https://www.mkfm.com/news/local-news/football4peace-event-at-powerleague-milton-keynes-to-raise-money-for-unicef/